Responsible Animal Care for Today and Tomorrow
Existing food labels are often confusing and narrowly focused. One Health Certified™ is a food animal certification program that recognizes that the health of humans, animals, and the environment are inseparable. This multi-protein label addresses important consumer concerns about how animals are raised and takes the guesswork out of food shopping for consumers.
The One Health Certified™ food animal certification program provides transparent standards which create a comprehensive and sustainable animal care program for participating farmers to follow. Scientific research and experience drive updates to this evolving program which ensures best responsible animal care practices for today and tomorrow. Compliance with the program is verified by annual audits conducted by the United States Department of Agriculture Agricultural Marketing Service (USDA-AMS) Process Verified Program.
Five Core Principles of One Health Certified™
A biosecurity program designed to help keep food animals free of diseases.
A veterinary health program that includes a comprehensive animal health plan.
RESPONSIBLE ANTIBIOTIC USE
Specific restrictions on the use of antibiotics important in human medicine.
A third-party audited animal welfare program following established science-based standards.
Measurements to calculate the carbon footprint of animal production and required waste management programs.
More Standards Coming Soon!
Pork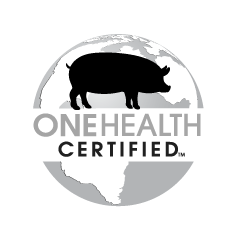 Eggs
Beef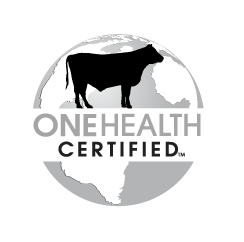 Dairy