Responsible Animal Care for Today and Tomorrow
The health of humans, animals, and the environment are inseparable. Farmers and producers truly care about their animals and food they produce. When animals are responsibly raised, that leads to safe and sustainable food supply chain. We're on a mission to help animal-based protein producers better demonstrate their commitment to responsible and sustainable animal care practices.
One Health Certified™ is a Process Verified Program (PVP) open to all producers who are interested in demonstrating to customers and consumers their commitment to responsible, sustainable, and transparent animal care practices.
What's a PVP?
A Process Verified Program (PVP) is a verification service through the United States Department of Agriculture Agricultural Marketing Service (USDA-AMS) that offers producers a unique way to market their products to customers and consumers through annual audits using clearly defined, implemented, and transparent process control points. Companies participating in a PVP are required to develop a Quality Manual and USDA-AMS verifies their adherence to those processes through routine audits.
Five Core Principles of One Health Certified™
The One Health Certified™ program provides transparent standards for producers to follow in these five core areas:
A biosecurity program designed to help keep food animals free of diseases.
A veterinary health program that includes a comprehensive animal health plan.
RESPONSIBLE ANTIBIOTIC USE
Specific restrictions on the use of antibiotics important in human medicine.
A third-party audited animal welfare program following established science-based standards.
Measurements to calculate the carbon footprint of animal production and required nutrient management programs.
More Standards Coming Soon!
Pork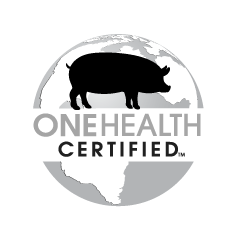 Eggs
Beef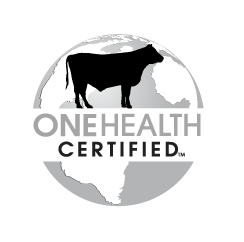 Dairy