About One Health Certified™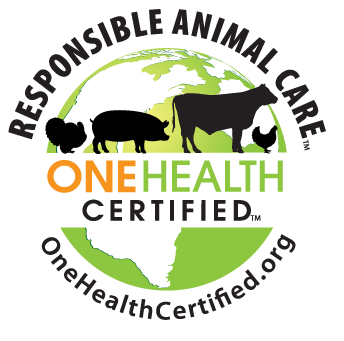 Conventional animal production is not required to follow any specific animal care practices and is not audited for compliance.
To address this, a coalition of technical experts from chicken and turkey companies, non-profit organizations, and university scientists worked together to create a sensible and affordable program that cares for food animals in a holistic way and reduces consumer confusion.
The One Health Certified™ food animal certification program defines species specific guidelines for each animal protein under one universal program.
Any animal producer may seek One Health Certified™ certification for their production system by aligning their animal care practices with those contained in the program and successfully passing a third-party audit to the One Health Certified™ standard. The U.S. Department of Agriculture Agricultural Marketing Service (USDA-AMS) Process Verified Program auditing service will ensure producer compliance with program guidelines via annually completed audits.
Current standards available for USDA-AMS to audit under the One Health Certified™ program are chicken and turkey. Standards for additional animal proteins are in progress and will become available in the future. The standards assure that food products are produced in a healthy way for animals, consumers and the environment.
The One Health Certified™ program has five core principles:
RESPONSIBLE ANTIBIOTIC USE